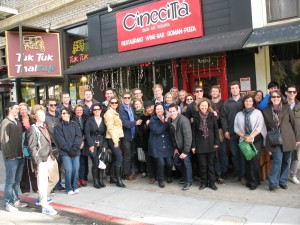 For Fiji Moms' Day 2012 the brothers of Phi Gamma Delta and their mothers went to North Beach in San Francisco for a Walking-Culinary-Tour. The group carpooled into the city for a day of delectable breads, pastries, coffee, fudge, and pizza.
The tour started at Cafe Cinecitta where hot baked focaccia bread was served, followed by freshly roasted coffee at Cafe Roma. After the group got their caffeine fix, the tour went on to an authentic Italian bakery and then, sticking with the Italian theme, ventured to Nico's Fish Tacos. Next up was a sweet stop where the brothers and their moms got all the fudge and taffy their hearts could desire. Finally, the group journeyed back to Cafe Cinecitta for pizza and a 'Fiji Mom's Day' Cake.
Here at Fiji we believe in morality, and spending time with our moms is not only enjoyable but also the moral thing to do! The group had a great turnout and the event was enjoyed by all. Thanks moms!