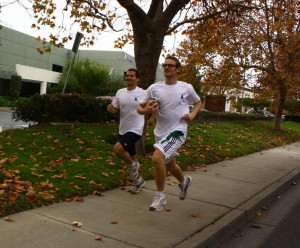 In the fall semester of 2011 the Delta Xi Chapter held its first annual Big Game Rivalry Run. On Friday before the Big Game, brothers ran with a football in hand from the chapter house in Berkeley all the way to Stanford Stadium. Each group of brothers ran a two mile segment of the roughly forty mile course.
As part of the event the brothers raised over $2,000 for the local chapter of the CASA Association. The National CASA Association is a network of 955 programs that are recruiting, training and supporting volunteers to represent the best interests of abused and neglected children in the courtroom and other settings. The Delta Xi Chapter hopes to make this an annual event and steadily increase its donation to CASA in years to come.
Service is one of the five pillars that Phi Gamma Delta stands on; we have the ability, the opportunity, and the duty to serve our fellow human beings. Our undergraduate brothers are putting forth a great effort to create a consistent philanthropy event that can be built upon each year.